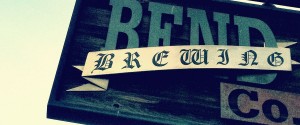 It's official! One Bend's first breweries changes hands!
The Bend Brewing Company is actually one of the reasons this town was so appealing to us when we moved to here in 2000 – so upon hearing the news a couple of weeks ago about the sale, I was both sad and elated to hear it. I spoke briefly with Wendi Day about the news and will be putting a more in-depth story together next week with more detailed information regarding the transition and new owners, after an interview with Wendi and the new owners this coming Monday. But for now, here's the Press Release. Cheers!
Bend Brewing Co. (BBC), established in 1995, and the second oldest brew pub in Bend, Oregon, is excited to share the news that a new family will take ownership beginning January 2016. For twenty years owner Wendi Day, along with husband Rob and father, Jerry Fox, established the brewery into a downtown Bend staple that has a rich tradition of serving award winning craft beer & exceptional, made to order, pub fare to families and friends alike.
"I am so proud of Bend Brewing Company, the people who I've worked with, the friends and families who have supported us over the years, and the recognition we have received in this amazing brewing community," Wendi Day said.
The new owners, Packy and Leslie Deenihan, have been introduced to the BBC staff and both have been working closely with Wendi throughout the transition. "I am truly excited for this new opportunity and I would like to welcome Packy and Leslie to our BBC family," added Day. Packy Deenihan is a graduate of Oregon State University and lived in Bend in 2008-09 before moving to Denver, Colorado, where he met his wife, Leslie. Leslie is a University of Colorado Boulder graduate and was also a member of their ski team. "We are thrilled to be taking over such a well respected & award winning brewery" said Packy Deenihan, and "we are especially impressed by the quality of staff at BBC and hope they all stay with us in this new chapter."
Initially, Packy and Leslie will be focused on continuing to serve the loyal patrons of Bend Brewing Company. Going forward, they believe there is an opportunity to expand production & distribution of Bend Brewing Co.'s beer as well as having a stronger marketing and social media presence. Packy's Dad, Ed, will also have a role at BBC, primarily focused on promoting the BBC brand and beer outside of Bend. Don't expect too much change, though, the Deenihan's are particularly focused on carrying on the tradition and culture that has made BBC so great 20 years later! See you at BBC!