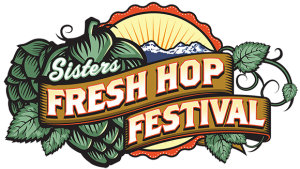 This just in from the good folks who are putting together this years Sister Fresh Hops Festival!
Over 3 dozen Fresh Hop beers will be on tap at this annual 'taste-ival' on September 27.
What
 › 5th Annual Sisters Fresh Hop Festival – Kids welcome but must be 21+ to imbibe.
Where
 › Sisters Village Green Park – Sisters, Oregon –
Map it
!
When
 › September 27th, 12p – 8p
Local Fresh Hop brews from
 › 10 Barrel, Cascade Lakes, Crux, Deschutes, Goodlife, McMenamin's, Rat Hole, Silver Moon, Three Creeks, Wild Ride, Worthy! Full Beer list here: 
SACC Beer List
.
UPDATED 9.22.14 list here
.
What's it going to cost me?
 › $5 mug (required) $1 token buys you a 4oz. taste.
Quick contact info
 › Sisters Area Chamber of Commerce: 541-549-0251
The Sisters Area Chamber of Commerce and Ray's Food Place present the fifth annual Sisters Fresh Hop Festival, Saturday, September 27 from 12pm to 8pm at the Village Green Park in Sisters. The event will include 2 dozen Oregon breweries featuring their best "fresh hop" brew and some crowd favorites, along with free live music, food, and much more.
The Sisters Fresh Hop Festival is the first in a series of Fresh Hop Festivals across the state of Oregon throughout the fall. Admission to the event is free and open to all ages. A souvenir taster pint glass, sponsored by Hop N' Bean, is available, and required to taste the brews, for $5 and tasting tickets are $1 per 4 oz. taste.
All the breweries for the 2014 festival are from within the state of Oregon, making this a truly hometown festival. Over 45 different beers representing several different styles will be available for guests to sample and enjoy.
All Fresh Hop beers at the Festival are eligible to win the coveted "Golden Bunny" award, sponsored by FivePine Lodge & Conference Center, for the best fresh hop beer – done by popular vote of attendees.
92/9FM will kick off the Festival with a live remote followed by live music, sponsored by Columbia Distributing. Festival goers will enjoy the country tunes of Mac McCartney in the afternoon and get ready to kick up your heels and dance with Dennis McGregor and Friends as the headliner.
A portion of the proceeds will benefit local non-profits the Family Access Network and the Sisters Kiwanis Food Bank as well as the Sisters Chamber of Commerce High School Scholarship Fund.
For more information regarding the Sisters Fresh Hop Festival please contact the Sisters Area Chamber of Commerce at 541-549-0251 or visit SistersFreshHopFestival.com
Cheers!