Worthy Brewing Collaborates with Whole Foods Market NW Team
If you live in Bend you know that Whole Foods Market and Worthy Brewing are pretty much right across the street from each other – so why not do a collaboration? Great brewery with a solid line-up of craft beers meets great grocery store with a rather impressive selection of craft beer. This should be good!
From Worthy Brewing ›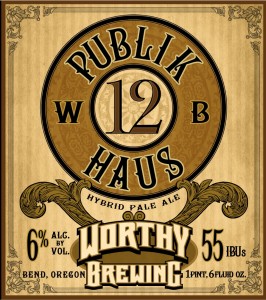 Worthy Brewing Company has released an early fall brew, bringing the classic English Pale Ale malt flavors together with the new world Northwest hop profile of Oregon craft brews. Publik Haus 12 came to life with the help of the Pacific Northwest Beer teams from Whole Foods Markets. Their team stopped by the brewery for a day of education and brewing and ended up with a delicious new brew to stock shelves. Publik Haus 12, a hybrid pale ale is available now in 22-ounce bottles and limited draft.
"The Whole Foods Specialty Team Leaders were going to be in Bend and wanted to check out our brewhouse," says CEO Chris Hodge. "We put our heads together and decided to brew a beer together." The hybrid pale ale was brewed with primarily English Maris Otter malt, providing a nice malty back drop. The NW-style hop profile makes it a perfectly balanced beer – just the kind of beer the Whole Foods and Worthy team wanted to drink. The limited release of 22-ounce bottles and kegs are available at Whole Foods Markets in Oregon and Washington.
Worthy Brewing Company delivers remarkably balanced, filtered ales that are hand-crafted using all natural, premium ingredients and the pristine water from the Cascade Mountains in Bend, Oregon. Its flagship beers include 12-ounce cans of: Worthy IPA, Worthy Pale Ale, Easy Day Kolsch, and Lights Out Stout. The bottling line also cranks out 22-ounce bottles of Worthy IPA, Worthy Imperial IPA and Eruption Imperial Red Ale, along with limited releases of specialty and seasonal beers.
Worthy Brewing Company opened its doors in Bend, Oregon in early 2013. Within its first year, a canning line, bottling line, expanded fermentation space, a kitchen expansion, and an addition of a five barrel pilot brew system were completed. Worthy also boasts a greenhouse and hop yard onsite for growing estate and experimental hops in conjunction with Oregon State University and Indie Hops.
For more information, please contact CEO, Chris Hodge, at chris[at]worthybrewing.com
Cheers!