Hoppy Holidays! Another great year for the craft beer industry in Bend, from the start of two new breweries in Redmond (Juniper, Wild Ride), and two in Bend (North Rim, Monkless), Boneyard Beer's new "RPM Factory",  a new addition to the two man, one woman crew over at Oblivion, the purchase of 10 Barrel Brewing by ABInBev, and the recent news of Bend being the #1 Beer City – it's been exciting! More has happened of course, but those are the highlights that come to mind.
With the Holidays at hand, and the Central Oregon Winter Beer Fest around the corner, it's a great time to share the holiday "Spirit" be it w/ a pint or dram of craft goodness. Sure we are "Beer Town", but we also have some great distilleries too – and one just happens to be in a brewery, Backdrop Distilling.
Of all the spirits, whiskey is the closest to beer, and coincidentally one of my favorites (Scotch to be more specific). In fact for the first couple of days, the process is pretty much identical, using the same basic ingredients. And this year – for the first time – McMenamins is offering up some really great Gift Packs for all to enjoy!
In November, I received some finer details from the good folks at McMenamins to share with you.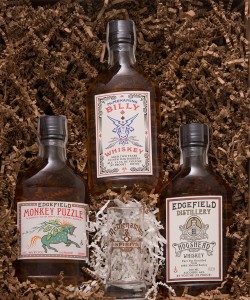 Going beyond the single bottle, gift packs include:
› McMenamins Whiskey Trio Pack with bottles of Billy Whiskey (new!), Monkey Puzzle and Hogshead Whiskey
› McMenamins Hot Buttered Rum Pack with Three Rocks Spiced Rum and hot buttered rum mix.
› McMenamins Phil & Satin's Cosmic Coffee Kit with coffee liqueur, Phil Hazelnut Liqueur (new!) and house-roasted coffee.
Coincidentally, while cruising thru our beautiful state last month – on our ongoing soccer club trips/McMenamins Passport quest, we stumbled upon the Cornelius Pass Roadhouse & Imbrie Hall where I had a chance to meet Bart (pictured pouring some Billy Whiskey), who was nice enough to give us a mini-tour of the CPR Distillery. Turns out Bart is not only a Master Distiller, but also had a hand in mentoring "Curly", who is the current Brewmaster at McMenamins Old Saint Francis School! How cool is that?!
There are for sure other gift options out there, from brewery swag, to gift cards, but it's nice to have a gift pack option for that person you know who loves the craft fermented & distilled goodness!
Cheers, and happy holidays!