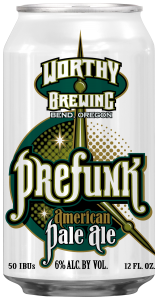 I had an opportunity to PreTaste the PreFunk this weekend – it was pretty awesome, and just in time for summer! With just the right touch of fruity notes, this very drinkable Pale in a can is poised to be Bend's summer favorite for sure.
Here's the skinny straight from the News Desk!
Worthy Brewing Company announces Prefunk Pale Ale, the newest in its family of canned craft ales. The addition to Worthy's year round lineup comes in at 6% ABV with 50 IBU, making it a quintessential Northwest American Pale. Pacific Northwest malts provide a balanced taste and mouthfeel, rounded by a smooth caramel background. Made with Citra and Amarillo hops, it finishes with a juicy hop burst with hints of tangerine, lychee, and pink lemonade. The new addition will be permanently replacing Worthy Pale (also known as Eastside Pale). "Playing with hops is one of the best parts of being in this industry," says CEO, Chris Hodge. "Sticking with our mantra of 'Hopcentricity,' we wanted the flavor profile and new look and name to reflect that." The year round release will be distributed in six pack cans and draft in Oregon, Washington, Idaho, British Columbia, Oahu, and Vermont.
If you happen to be in Portland for the upcoming Opening Reception of the Craft Brewers
Conference in Portland, you're in luck – PreFunk will be there for your tasting pleasure.
Worthy also has several release events planned, including:
April 23, 11:30a-10p
 ›
Worthy Brewing Company
. Draft and can release with food pairings.
April 28, 8p-12a
 ›
Goodfoot Lounge
in Portland, Oregon with music from Yak Attack.
May 1, 5-8p
 ›
Pre Funk Beer Bar
in Boise, Idaho with live music and giveaways.
May 8, 6-9p
–
Broken Top Bottle Shop
in Bend, Oregon with live music and giveaways.
Worthy Brewing Company opened its doors in early 2013, delivering remarkably
balanced, filtered ales that are hand-crafted using premium ingredients and the pristine water from the Cascade Mountains in Bend, Oregon. Worthy's campus includes a large outdoor biergarten, full restaurant, and a greenhouse and hop yard onsite for growing
estate and experimental hops in conjunction with Oregon State University and Indie Hops.
Cheers!