With the summer drawing to a close in Central Oregon, craft beer aficionados are now looking forward to the next round of early Fall festivals which traditionally feature Märzen style and fresh hopped beers. But hey, there's always room for another Beerfest in Bend – especially one that's all about IPAs! So a week or so after the Bend Oktoberfest (Sept 18 & 19), and right on the heels of this years Sisters Fresh Hop Fest (Sept 26) there's the first annual PT80 Beerfest Challenge (Sept 29).
If you were among the crowd at this years IPA Wars over at 10 Barrel you'll know that us Benders love Oregon IPAs – So why not have another IPA Fest, right?! Except this one is demilitarized; PT80 isn't some acronym for a weapon or explosive. PT80 is short for Pine Tavern's 80 year celebration. The event will launch their 80th birthday celebration with a beer garden, food, judging and a people's choice award for the best IPA. Sixteen Central Oregon breweries will be competing for the best IPA and judged by local celebrities and beer fans. Additionally they'll be serving a signature PT80 beer.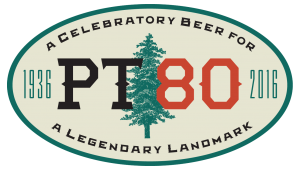 What › PT80 Beerfest Challenge When › September 29, 2:30p Where › Pine Tavern Why › Beer How Much › $10 – Includes pint glass + 5 tasting tokens Benefits › The Humane Society of Central Oregon
The Pine Tavern may not be top of mind for most aficionados when it comes to go-to pubs featuring a great selection of craft beer, but what better way to entice us by having a Beer Fest right? So cheers to the new owner for putting this on! Plus, I'm pretty sure they still have those delicious scones! And who knows, perhaps this is a start to a more "tavern-like", Pine Tavern. For more information and a list of participating breweries, visit PineTavern.com or Facebook.com.
Cheers!